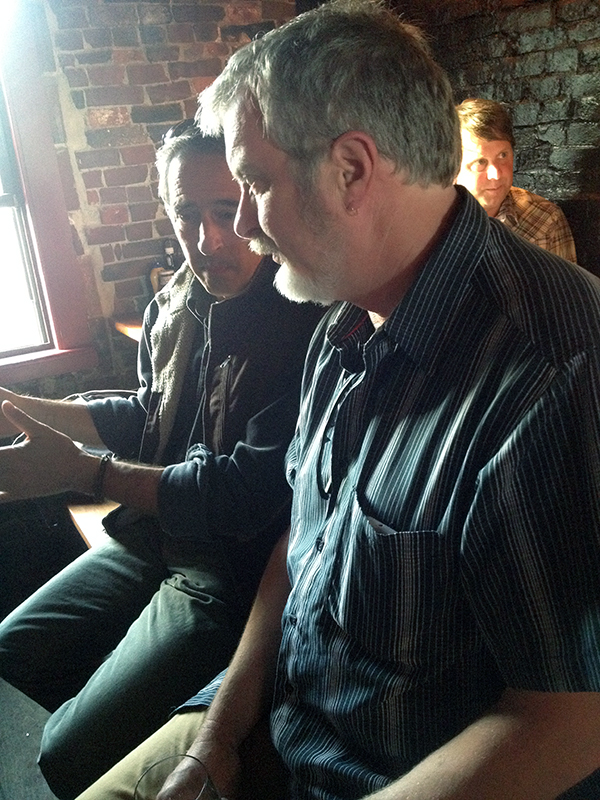 As a newspaper photojournalist, it was always about competition — against myself, against my colleagues, against photographers at competing news organizations. I loved getting a shot at a news scene that the other guys missed—the proof of my short-lived super-awesomeness in print for all to see the next day. Despite this, the world of editorial newspaper photography is a small and tight-knit group. We competed, but we also helped each other. I've been given rolls of film by photographers from competing newspapers, and have given batteries and digital cards to others. Off the clock, we'd often hang out and engaged in the time-honored photographer pastime of complaining.
The commercial world of photography inhabited by art photographers, editorial and commercial shooters isn't quite the same. We don't see each other at news scenes typically and are more like lone ships in the night—occasionally passing but not spending time in each others company. It's a hazard of being a solo business person and in a competitive market environment. What we miss out is the community of photographers that support, help and encourage each other…and yes, compete.
Last evening we had an amazing gathering of local photo talent at the bimonthly ASMP Maine "Breakfast" Club at Brian Boru's Pub. These breakfast meetings are casual affairs organized throughout New England by members of the American Society of Media Photographers meant to promote community among ASMP members and non-members alike. In Maine, we've settled on evening events rather than breakfast because it's just easier when you're asking people to drive from hours away to attend. Last night, Amy Wilton and her intern came from all the way from Hope, Maine (thanks, Amy). We had editorial shooters, corporate commercial folks, lifestyle photographers, and wedding photographers. Well-known locals showed as did some recent transplants, like David Butler who moved here from Arizona last year.
I'm excited about last night for a couple of reasons. The turnout was great. It's clear that the photographers enjoyed meeting and talking with each other. Looking around the room, I realized that we do have a community—one that can and will come together. We also tried something different last night. instead of just gathering to have beer, Peter Dennen of Pedro+Jackie Photo Consultants gave professional portfolio reviews. We're going to continue to offer programming at our future meetings as well. Our next "Breakfast" is Wednesday, July 9 at Aurora Photos in Portland. We'll have appetizers, drinks (because, Beer!) and Aurora founder and National Geographic photographer Jose Azel will be presenting.
Thanks to all who were able to come out last night—and for those who couldn't, I'll keep you posted on future gatherings. And if you ever need batteries, let me know.
–30–
(Visited 1 times, 1 visits today)