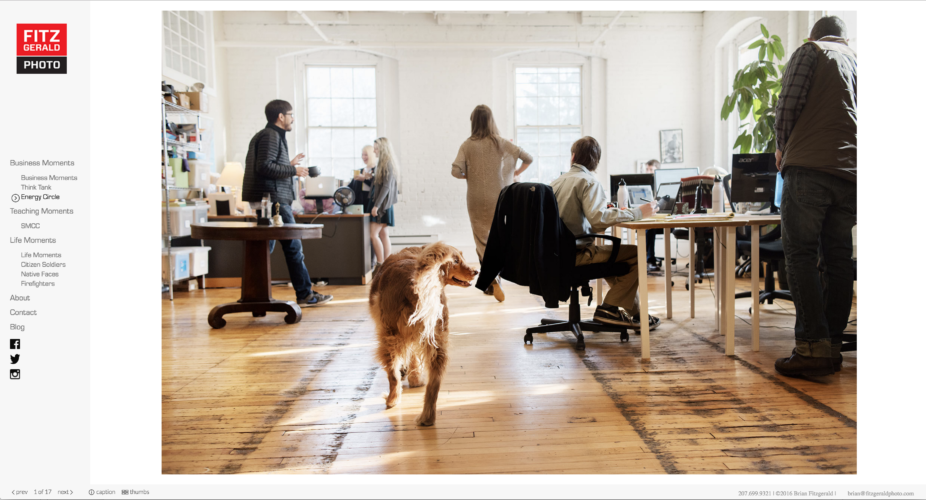 I'm excited to announce the release of a new portfolio of imagery, along with a newly-designed website and Fitzgerald Photo blog.
It's been a long time coming.
Like many photographers, I split my time between many activities (only one of which is actually using a camera) that seemly add up to 29 hours a day.    It's critical to take the time to create new work and market that work so that others can find it, too.
Six months ago, I began working with photo consultant Selina Maitreya to edit my existing images and create a new portfolio.   I'd worked with Selina in the past, but never had we stripped down my portfolio and rebuilt it in the way we've now done.    I love the results.  I am so grateful to have worked with some amazing people along the way.   People like the folks at Energy Circle, a Maine-based technology company that provides marketing services for builders, contractors and HVAC professionals.  I spent several days with the developers, salespeople and, of course, their dogs (Energy Circle is pro-canine) at their Yarmouth digs, documenting the people and the vibe of the place.   The resulting visual story goes behind the scenes and gives an authentic view that a single image can't capture.
So please check out the new site and my new portfolio and let me know what you think.   And if you like what you see, come back regularly to see new work now in progress.
It's always a work in progress.
(Visited 1 times, 1 visits today)