I was asked (by my wife, Beth) recently to make a presentation to the monthly photo group she hosts.  The group, known as a PUG (Pictage User Group), is run by local wedding photographer Emilie of Emilie Inc.  Beth ran the show while Emilie was on maternity leave, hence the request.
So I put together a short program around the use of studio lights (not camera flashes).  We would start with a one-light wonder and build a three-light portrait from there.  Along the way, we'd use a variety of modifiers to sculpt the light:  softbox, umbrella, beauty dish and reflectors.
To my surprise, we had a packed studio.  The session was great–lots of good questions and energy.   When our model called in with the Flu, group members happily allowed themselves to be pulled in for impromptu example shots, which we promptly projected for the group to see.
We covered a lot of ground, but as the session ended I knew I wanted to put together a new workshop–this time demonstrating how to use studio strobes on location and synchronizing electronic light with ambient light.   It's still in the works, but will probably happen this summer before the season gets too busy for wedding shooters.
Below I'm including a beauty dish photo I took of participant Charlie Widdis.   The concept was on layering lights so that the image shows bright-dark-bright areas from back to front.  Beauty dishes are great for this kind of effect because they produce a very defined and controllable beam of light (with no hot spots, incidentally).   This is literally a 30-second set-up-and-shoot portrait, but Charlie looks great.
The cool thing is that, a few days later, Charlie practiced the session and expanded on it, producing a very nice softbox variant with some good model material–Miss Maine.  Then, he sent that image to me to show off his results.   Nice job, Charlie!   I love it when people immediately apply lessons learned–there's no better way to commit the technique to memory.   Charlie blew the doors off of this one and made it his own.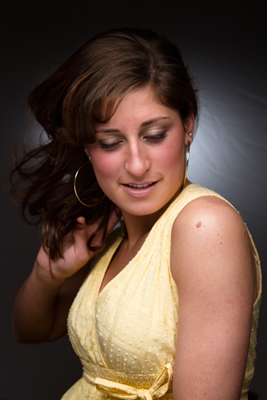 Below is a list of resources based on questions that came up during the workshop.  Hope it's helpful to the group (and others).   And for anyone wanting to take part in the upcoming outdoor lighting session, feel free to email me at brian@fitzgeraldphoto.com.
Resource Links and Terms
Honl Photo:  For straps, grid spots and other modifiers for your on-camera flash.
Gaffers Tape:  This is the slightly expensive cloth tape the pros use.  Very sticky, but no residue afterwards.
Beauty Dish:  For beautiful, directional light with no hot-spot
Alien Bees:  Relatively inexpensive monolights good for traveling wedding and portrait photographers.  Great customer service.
Elinchrom:   Professional studio lights with a built-in radio remote that allows you to change the power from your camera.
Pocket Wizards:  The best camera/light wireless remote system, in my opinion.
Lastolite:  A bit expensive, but great products such as the light diffusion panels and the Ezybox softbox for camera speedlights
Ebay remotes:  Cheaper alternative to pocket wizards found on EBay.  OK, but you get what you pay for.
Strobist.com:  Fantastic resource for amateurs and pros who want to use their camera strobes more effectively.
Rosco "Strobist" Filter kit:  Get exactly the gels you actually can use–and get multiples of them, too.  They're cheap, fit right over the head of your flash–and don't have a hole in them like the free sample packs do.
Seamless:  Paper background available in a variety of roll widths.  Savage and Superior are two well-known brands.
Note:  With the exception of the Alien Bees, much of this stuff is available at  (or can be ordered through) locally-owned businesses  Photo Market and Hunt's Photo & Video.  Check them out!
(Visited 12 times, 1 visits today)