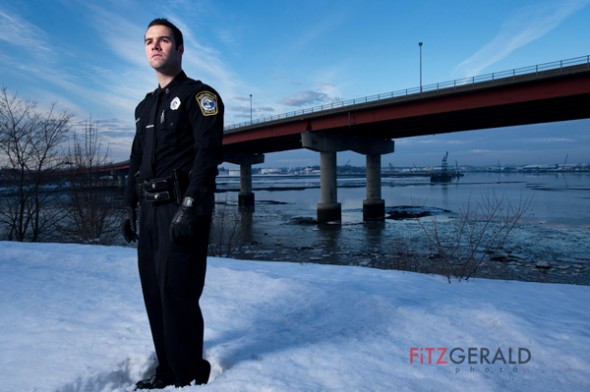 Photographer's Note:  Mainers at Work is an ongoing portrait series featuring Maine individuals who work some of the most dangerous, dirty or low-paying jobs as compiled by CareerCast.Com for its 2011 ranking of 200 jobs nationwide.

Behind South Portland police officer Rocco Navarro, the Casco Bay Bridge looms, a symbol that connects his past with a forever altered future.  "You never think of this happening on a routine call," he says.   A former athlete with a degree in kinesiology,  Navarro has to shift his hips to adjust for the weight of his duty belt, now painful to wear.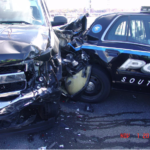 Stretching away across the Fore River and linking South Portland with Maine's largest city is the drawbridge that more than 30,000 drivers cross daily.  It was there, on Nov. 1, 2010, that Navarro had a brush with death—in the form of a distracted driver on a cell phone.
Navarro, 28, is in many ways a typical Maine police officer.   Born and raised in Portland, he attended local schools and played football—Navarro was a punter, and good enough to play for three years at the University of Maine—before deciding on a career in law enforcement.  He chose South Portland because it was close to home but also because he wouldn't be patrolling his old neighborhood.  "I figured it would be too awkward to work where I knew everyone," he says.
After graduating the police academy in 2007,  Navarro started on the late shift and eventually was assigned a daytime patrol slot, first shift, that started at 7 am.
The morning of the accident,  Navarro responded to a routine call involving a broken-down Kia sedan in the northbound lanes of the Casco Bay Bridge.  It was just before 11 am, and Navarro had just returned to his vehicle, parked behind the disabled car, to await a tow truck. "Thirty seconds earlier, I would have been killed," he says.
A full-size 2010 Chevrolet pickup truck rammed into the back of Navarro's police cruiser at an estimated 45 miles per hour.  After the impact, the officer struggled to remain conscious.   He manged to kick open his jammed driver side door and stand up briefly—he was concerned about the car catching fire, he says—and the last thing he remembers is fellow officer Robert Libby approaching the scene.  The next thing he knew, he woke in the hospital.
Since that time it's been a difficult and long recovery.  "The first three weeks, I felt like a 90-year-old," Navarro remembers.   His first month was a haze and bad migraine headaches came frequently.  Even as short-term effects faded, other issues stubbornly remain.  Navarro's short-term memory has been slow at coming back, and it's difficult for him to sit for long periods of time.   "I didn't drive for a month.  In traffic, I'd get flashbacks," he says.  "It was hard going over the bridge for a while."
Maine is one of only a handful of states without laws banning texting and cell-phone use for all drivers–something Navarro and his fellow officers would like to see changed.   The driver of the Chevy was cited for failure to maintain control of a vehicle.
In the meantime, Navarro rides a desk until cleared for patrol duty by his doctors.  That could still be a while.  He's also found he's in a unique position to make a difference in the lives of others.  This month, he started speaking at local high schools on the dangers of texting while driving.  He hopes to get back on the street and plans to eventually retire from the department despite the dangers.
"It's been a huge setback, he says of the accident.    "I love my job and to have it taken away like that…you're not prepared for it.   It's probably the biggest setback in my life.   I'm trying to get back to where I was."
Name: Rocco Navarro
Age: 28
Occupation: Police Officer
Employer: South Portland Police Department
Rank on CareerCast survey: 178 (out of 200)