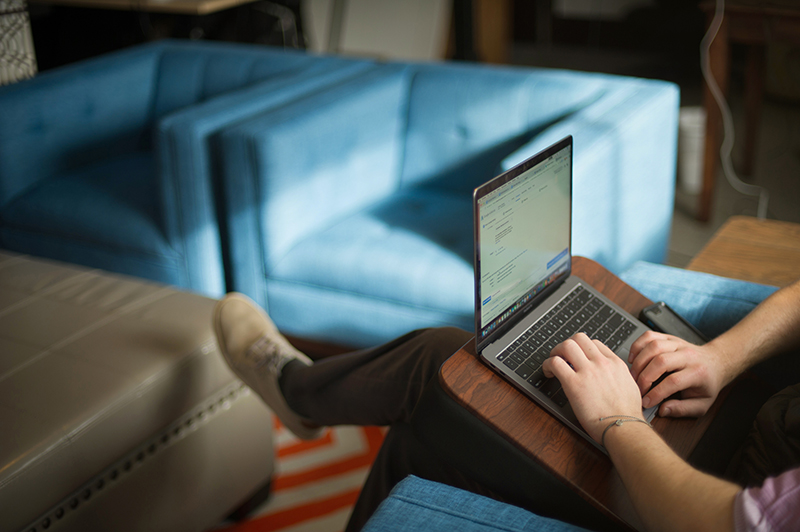 If you're responsible for marketing at your company (or one-person shop), one single word can induce sweating, bouts of self-doubt and even some wistful headshaking: content.  Since the online platforms for content delivery are so ubiquitous, it's likely any bottleneck in producing consistent, high-quality (and brand-appropriate) content is on the production side (you), not on the delivery side.
So what's your strategy when it comes to producing and sharing content?
Content isn't just what you produce—writing (blogs, articles, white papers) and visuals (graphics, images, videos), but also those things you discover, curate and share.
The content you publish might be very slick and professionally-done. It might also utilize unedited smartphone photos, Instagram stories or short video snippets. This kind of grab-and-go visual content is raw, but also authentic, organic and real.
Both types can have a place in your content strategy.
A solid ongoing content approach may include targeted shoots to build up a library of appropriate imagery—of people, processes, places; of faces and evergreen details—that are on brand message. It also involves defining what sorts of 'raw' content should be considered, and the triggers and standards for that kind of content.It all starts with an editorial content calendar—whether in the form of a spreadsheet, a physical white board or an actual calendar (digital or physical). On this calendar are listed all of the planned blogs, articles, social media posts and other content planned for the next months or year.
Looking at a blank screen it can be overwhelming, thinking about how to proceed.  I start with the easy wins.  Here are some strategies that can help you produce great content consistently and take the stress out of the process. 
Recurring Content
This is the easiest to schedule. For me, it starts with my end of year wrap-up blog post. I also do a series of assignment showcases that celebrate completed recent projects—usually one a month—and so I just schedule those even if all I can write for some of them is "client highlight".  I can fill in the specifics later. The important part is to fill out my editorial calendar so that I have content each week in the form of blogs and social media posts. For others, it might make sense to tie content to annual events or seasons, like the start of spring or baseball season.
Leverage others' content
I don't do all the content heavy lifting myself. I make sure I'm curating interesting content from others. This means commenting on social media posts, sharing content I find valuable, and even allowing guest posts on my sites and platforms.
Behind the Scenes
People love to see the unscripted 'inner workings' of an operation. This tends to be the 'raw' unpolished stuff. I try to have a stream of visual content that shows me and my team at work, or on location, as part of my mix. This is where some of the more creative, quirky or fun images can go. This is what Seth Godin might refer to as, "showing your scuffed shoes". I schedule this as well in my calendar.
Evergreen Content
This is content that always stays fresh no matter the season. It can be a quick hit list of tips, a short how-to article or feature. These can be done ahead of time and sprinkled around where needed.  Brainstorm and produce this during your slower season and you'll be ready no matter how busy things become later. 
Targeted Shoots
Custom, highly tactical content generation. Coming up with a shot list (including video) and executing with the idea of creating an image library good for specific uses.
I have many clients who hire us for targeted, planned shoots of content meant primarily for social media—these may be less polished, and include a mix of micro-video snippets and images that can be easily shared. Then they spread out these posts over the course of several months so they have plenty of content even during their busier times of year. If you plan ahead, these targeted shoots don't have to be onerous, time consuming or costly—we strategize with our clients to come up with creative approaches that are fun and fit their brand, whether it's a restaurant wanting 'in-situ' portraits of their dishes or a recycling company wanting "product" shots of the sometimes strange and unusual types of items that end up being processed in their facilities. Often, we help set the strategy that our client's marketing teams can continue to do themselves in the future in a pinch.
Recommendations and favorites
Recommended lists of books. Favorite peices of software. Best blogs. Top resources for others in your industry. This is a fun way to share your knowledge with others and create a conversation. 
Having a balance of polished, high-value content as well as social media-focused content will keep your audience engaged and will help you be successful at actually maintaining the consistency needed to grow your audience.
Have questions about how to make this happen for you and your business? We build custom plans for our client partners and would be glad to discuss whether we'd be a good fit for yours.
(Visited 4 times, 1 visits today)