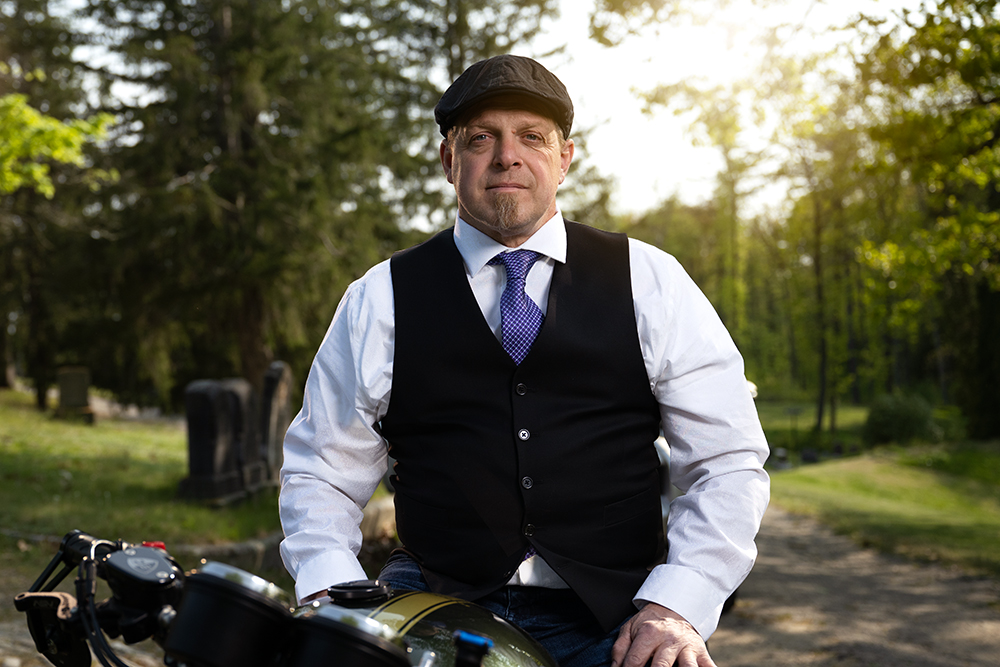 © Brian Fitzgerald
Outdoor environmental portraits offer a blend of human emotion and natural beauty and can elevate a simple portrait into a compelling visual story. Whether you're a pro photographer looking to refine your craft—or you're in a position to hire one—understanding the dynamics of outdoor portrait photography is key. Here are five things I try to keep in mind:
1. Don't Fight the Sun (Unless You Know You Can Win)
There's no way around it: photographing outside in full sun is a big challenge, especially for natural-light photographers. Harsh direct sunlight can cause unflattering shadows, squinting, and overexposure. A classic solution is shooting during the 'golden hour' – the time just after sunrise or just before sunset when the light is softer and warmer, which can help to create a magical mood.
Choosing the time of day isn't always an option, so if you're planning on doing battle under the blazing noon sun, you'll have to bring plenty of backup in the form of off-camera flash and reflectors. For example, you might position your subject with their back to the sun, using it as a hair light, and fill in their face with a reflector or flash. You'll need a firm grasp on balancing ambient and artificial light, but if done correctly, you can create dramatic portraits with impact. 
2. Show The Environment
The outdoors provides background options that can complement your subject and tell a deeper story. Storytelling details might also help tell the story of your subject. 
Watch out for distracting elements in the frame that may draw attention away from your subject. Use depth of field to your advantage, blurring out the background to keep focus on your subject when necessary.
3. Use Motivated Lighting
Just like in filmmaking, motivated lighting plays a crucial role in photography. The concept refers to lighting that appears to come from a natural source within the scene, like the sun, a lamp, or a fire. This kind of lighting not only looks more natural, but it also helps to tell a story and create a certain mood or atmosphere.
4. Create Rapport
Creating a genuine connection with your subject is vital in any kind of portrait photography, but it's even more crucial outdoors where there are more variables at play. It's easy to get caught up in your gear, or dealing with changing light and variables like wind, and to forget about connecting with your subject. Good rapport can help your subject feel comfortable and relaxed, leading to more authentic expressions and poses.
5. Mix It Up
Finally, add variety to your outdoor portraits by mixing up poses, locations, angles, and focal lengths. You might start with wide, non-portrait lens and then work up to a tight headshot with a portrait-length lens. Have your subject look away from the camera as well as towards it. You're not just after a well-composed portrait; you're looking to create a mood.
The key to a successful outdoor portrait shoot is adaptability. The natural environment is ever-changing, and so should your approach. The sun might not always cooperate, and your environment will present unexpected challenges or distractions. But with these five tips in mind you'll be better prepared to capture stunning outdoor portraits that truly tell a story.